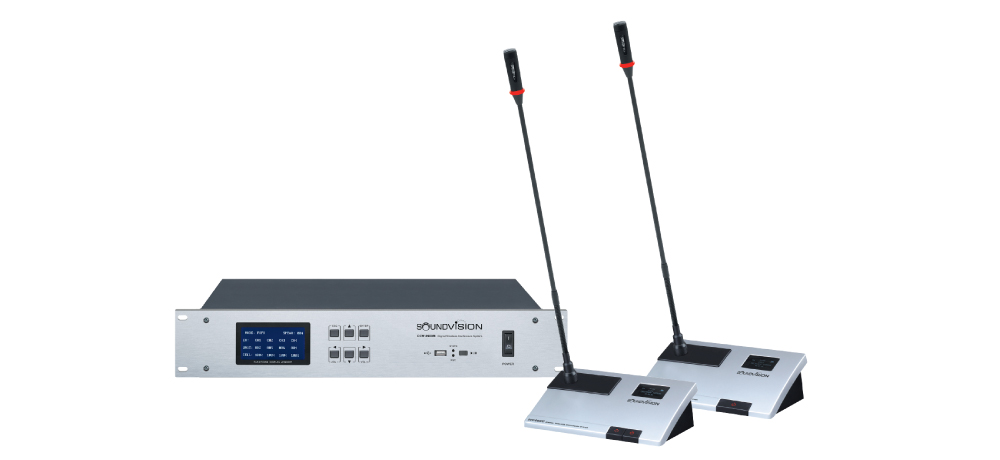 2.4GHz ADFHSS (adaptation frequency hopping spread spectrum) technology to increase the security.
Good ability for resistance to Mobile interference.
Built-in feedback eliminating technology.
Easy to move and easy to Installation without problem wiring connection.
Easy to control meeting mode and the number of speakers by the buttons on the panel.
Large LCD screen displays 240 x 128 dot matrix display conference mode working status.
The microphone can open at same time: 1,2,3,4
Discussing and video-tracking combined conference system.
The DCW-9900M can support 255 microphone units.
The electrical load and short circuit protection function and the power switch turn-on/off without silent noise.
Equipped with audio parallel output, Balanced output and a 6.3 jack output, conference recording outputs and background music inputs interface.
Built in USB port for recording with light indicator. (Maximum 64GB)
RS232 interface can be achieved using computer software to control entire conference system function.
Built-in Video switcher processor 4IN/2OUT for SD video camera.
Support control HD video camera and SD video camera up to 4 unit.
Support protocol camera control Pelco-D,Pelco-P and Visca.
Intelligent power management, when the DCW-9900M is turned off then all Discussion unit auto switch to turn off.
DCW-9900M use with Omni-direction antenna (360°) Covering an area total is 60m and use with Directive antenna (180°) Covering an area 80m (option).
Antenna Amplifier use for increase stable working distance. (option)
2U of a standard 19-inch rack.
Four operational microphone modes:
1. CHAIRMAN mode: Only chairman can speech.
2. FIFO mode: After reaching limit number (1-4) when open new delegate microphone the first microphones will close automatic.
3. LIMIT mode: Limit microphones (1-4) can open on the same time.
4. TIME LIMIT mode: Setting on time speaking.
Carrier frequency band
2.400-2.500GHz
Communication distance
60M (Max)
Frequency response
20Hz~20KHz
T.H.D.
<0.05%dB
S/N Ratio
>90dB
Operating temperature range
-20~70℃
Signal covering range
60M (Max)

DCW-9900M Controller Unit

Power supply
DC 12V~17V
Power consumption
6.5W
Dynamic range
>100dB
Channel crosstalk
>60 dB
Display
LCD 240x128x63
Dimensions
480x370x85 mm
Weight
6KG